News Archive
2013
TWO PhD STUDENTS SELECTED AS 2013-14 UCSD GORDON SCHOLARS
Friday, September 18 2013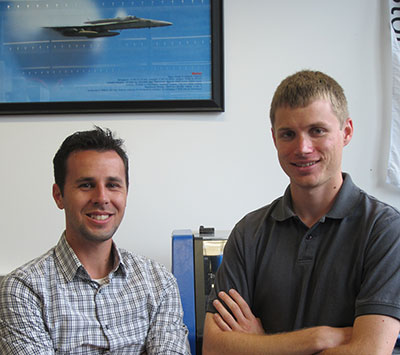 PhD students Colin Haynes and Scott Ouellette were both recently selected through a competitive application process to participate in the 2013-14 UCSD Gordon Scholar Program. The Gordon Scholar Program "identifies and celebrates talented individuals with leadership potential" and "exposes students to the advice, experience and attitudes of proven engineering leaders through training events including workshops, leadership forums, and summer schools." More info is available here. Congratulations to Colin and Scott for this achievement!
SHM GROUP MEMBER WINS STRUCTURAL ENGINEERING BEST POSTER AT 2013 JSoE RESEARCH EXPO
Thursday, April 18 2013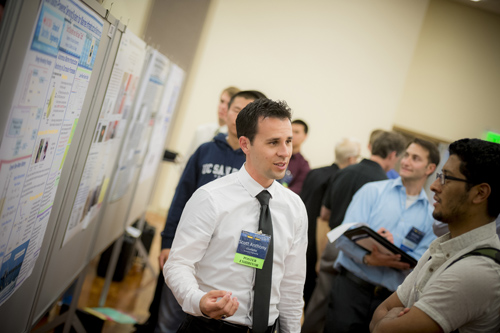 SHM Group Ph.D. student Scott Ouellette was recently awarded the Best Poster award for the Structural Engineering department at the 2013 Jacobs School of Engineering (JSoE) Research Expo. Judging for this award is based on overall poster quality and presentation of research. Congratulations, Scott!
2012
SE PH.D ALUMNUS AWARDED DIRECTOR'S-FUNDED POSTDOCTORAL POSITION
Wednesday, September 26 2012
SE Ph.D. alumnus Erik Moro (2012) has been awarded a Director's-Funded Postdoctoral position at Los Alamos National Laboratory. The Director's-Funded postdoc program is the most prestigious one at Los Alamos, where only 3-5 are awarded quarterly in an extremely competitive process. Awardees of this two-year fellowship receive their funding directly from the National Laboratory's Office of Directed Research and Development, and this guaranteed and project-independent source of funding provides a tremendous degree of flexibility in the research that a Director's-Funded Fellow may choose to pursue. Erik's dissertation under Professor Michael Todd was entitled "Modeling and Validation of Performance Limitations for the Optimal Design of Interferometric and Intensity-Modulated Fiber Optic Displacement Sensors", and he will be continuing and expanding this work in his new position with WX-4: DARHT Experiments and Diagnostics. Erik joins two previous structural health monitoring group Ph.D. alumni, David Mascarenas (2008) and Eric Flynn (2010) in receiving this prestigious postdoctoral position. Congratulations to all three for their incredible achievement!
2011
SE STUDENT RECEIVES NATIONAL DEFENSE SCIENCE AND ENGINEERING GRADUATE (NDSEG) FELLOWSHIP
Wednesday, July 27 2011
SE graduate student Dustin Harvey was awarded a National Defense Science and Engineering Graduate (NDSEG) Fellowship beginning September of this year. NDSEG Fellows receive three years of funding including full tuition and all mandatory fees, a monthly stipend, and medical insurance. The NDSEG program is sponsored by the Department of Defense. Dustin is advised by Professor Todd. Congratulations on this achievement!
SE GRADUATE STUDENT WINS PRESTIGIOUS DEMICHELE AWARD
Saturday, January 1 2011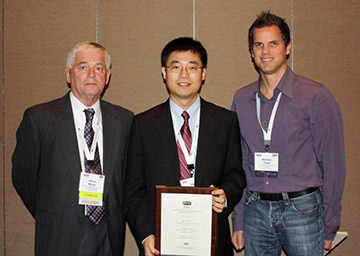 Ph.D. student Zhu Mao recently won the 2011 D. J. DeMichele Scholarship (from the Society of Experimental Mechanics) to be presented at the 2011 International Modal Analysis/Structural Dynamics (IMAC) Conference in Jacksonville, Florida, in early 2011.
The scholarship is awarded to the best student paper of the students attending IMAC for the first time. The scholarship provides for travel expenses to/from the conference, a special plaque, and an honorary presentation at the IMAC conference awards ceremony. This award was given for the paper "A Model of Uncertainty Quantification in the Estimation of Noise-Contaminated Transmissibility Measurements for System Identification," by Z. Mao and his advisor, Professor Michael D. Todd.
2010
SE STUDENTS AWARDED NATIONAL SCIENCE FOUNDATION GRADUATE RESEARCH FELLOWSHIP
Saturday, May 1 2010
Graduate students Colin Haynes and Scott Ouellette were recently awarded National Science Foundation Graduate Research Fellowships. Fellowship recipients are provided three years of tuition, stipend, and travel fees. Both students are advised by Professor Todd. Congratulations to Colin and Scott on this achievement!